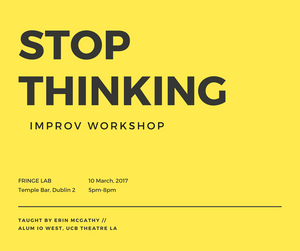 STOP THINKING: Improv Workshop: 3/3/18
Regular price €45.00 Sale
Get out of your head. Over this 3 hour, scene-work packed workshop you'll learn tools and "tricks" for getting out of your head via new exercises and fresh approaches to scene work. Start developing your own toolbox for staying present and grounded in scenes and during shows. Leave feeling like an improv-genius (or just a lot more confident).
This workshop will be heavy on the play and scene-work.
Come ready to improvise your heart out.
(3rd March, 5pm-8pm at Fringe Lab, Temple Bar)
* You must've taken 2 Improv courses in the last 3 years to attend or at least one of my previous workshops to attend.