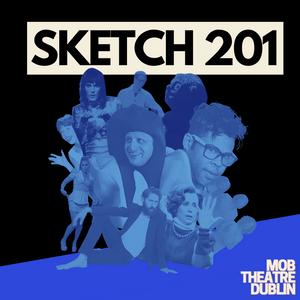 SKETCH 201 (Starts May 6th)
Regular price €29.00 Sale
PAY-WHAT-YOU-CAN: SKETCH 201

THE WRITERS ROOM
CONTINUE YOUR SKETCH COMEDY JOURNEY WITH A COURSE FOCUSED ON DEVELOPING YOUR OWN VOICE AND STYLE. EACH WEEK WE'LL STUDY A DIFFERENT ESTABLISHED SKETCH GROUP AND WRITE AS IF YOU ARE PART OF THEIR WRITERS ROOM. WE'LL EXPLORE WHAT YOU FIND FUNNY AND WHAT KIND OF COMEDY YOU WANT TO WRITE. 
** Prerequisite is MOB Sketch 101.

Course is Pay-What-You-Can at the end of 6 weeks
Course meets for 6 sessions, each 3 hours long. 
Begins May 6th
13th, 20th, 27th
June 3rd, 10th // Thursday Evenings 7-10 PM (DUBLIN TIME)

LOCATION: Zoom and Google Classroom
TAUGHT BY STEPHEN BRADLEY